For the past few years, Singapore has welcomed blockchain technology with open hands. Unsurprisingly, the country has seen some of the most exciting developments in the NFT space.
Despite having been circulating on the internet since 2014, NFTs really took the world by storm in early 2021. They posted total sales of around $ 20 billion over the course of the year. That was over 20,000 percent more than in 2020.
In fact, NFT's largest single purchase in 2021 – valued at $ 69.7 million – was worth more than half of last year's sales combined.
This phenomenal growth resulted in investors pouring money into the industry. NFTs went from being perceived as a vehicle for internet memes to being a gold mine with untapped potential.
As 2022 begins to take hold, more and more companies seem to be exploring this ever-changing space. Here are the top NFT developments of the past year that signal what Singapore's future awaits in the Metaverse.
South African Entrepreneur Gives $ 69.7 Million to Beeple NFT. out
March 2021 was a monumental occasion when NFTs finally broke through and took over mainstream media.
The digital artist Beeple has auctioned an NFT collage of 5,000 of his works of art. He started the project in 2007 and is committed to creating a new work of art every day.
The end product, entitled "Everydays – the first 5,000 days", sold for $ 69.7 million. This made it the most expensive piece of digital art ever sold.
Everydays – the first 5,000 days of Beeple
Although anonymous at the time of purchase, the buyer decided to reveal themselves shortly thereafter. Singapore-based entrepreneur Vignesh Sundaresan told CNBC that he bought the NFT because it would go down as a significant piece of art history. He was ready to offer more if necessary.
The sale of the Beeple NFT became known around the world, paving the way for NFTs to become the worldwide phenomenon they are today.
NFT marketplaces offset the closure of shopping centers
Although the pandemic resulted in physical stores and malls closing, NFT marketplaces had no problems starting.
In July 2021, Singapore-based NFT marketplace Mintable raised $ 13 million in Series A funding. Investors included Mark Cuban, a billionaire entrepreneur and NBA team owner; Ripple Labs, the company behind the XRP cryptocurrency; and MetaPurse, an NFT mutual fund backed by Vignesh Sundaresan (the buyer of the Beeple NFT).
Mintable has since launched NFTs in partnership with companies like BAPE and CNBC. The top-selling NFT collection on the platform was released alongside NFL quarterback Trevor Lawrence, which sold for around $ 230,000.
NFTs from the Trevor Lawrence collection launched on Mintable
Brytehall was another Singaporean NFT platform that came into effect in 2021. It was created to bring luxury art and fashion into the metaverse.
The platform held its first auction in December in collaboration with the American bicycle manufacturer Specialized. "Enishi-E: The Living Bicycle" sold for $ 50,000.
Brytehall was started by the founders of Media Publishares and was also responsible for launching Vogue and Esquire's NFT collections in Singapore.
The newest addition to Singapore's NFT scene is ARC, an exclusive digital community founded by Kiat Lin, son of Singaporean billionaire Peter Lim. ARC has ambitions to launch its own iteration of the metaverse in the near future.
Singapore's first major NFT exhibition takes place in a freeport
In November 2021, the Singapore crypto exchange Coinhako teamed up with the Appetite research center to host the country's first NFT exhibition.
It was titled Right Click + Save, an indication of the initial skepticism of all those who face NFTs: "Buy a .jpeg? But I could just right-click and hit Save. "
The exhibition examined the evolution of digital art and NFT culture through groundbreaking works by creators such as Andy Warhol, Beeple and Refik Anadol.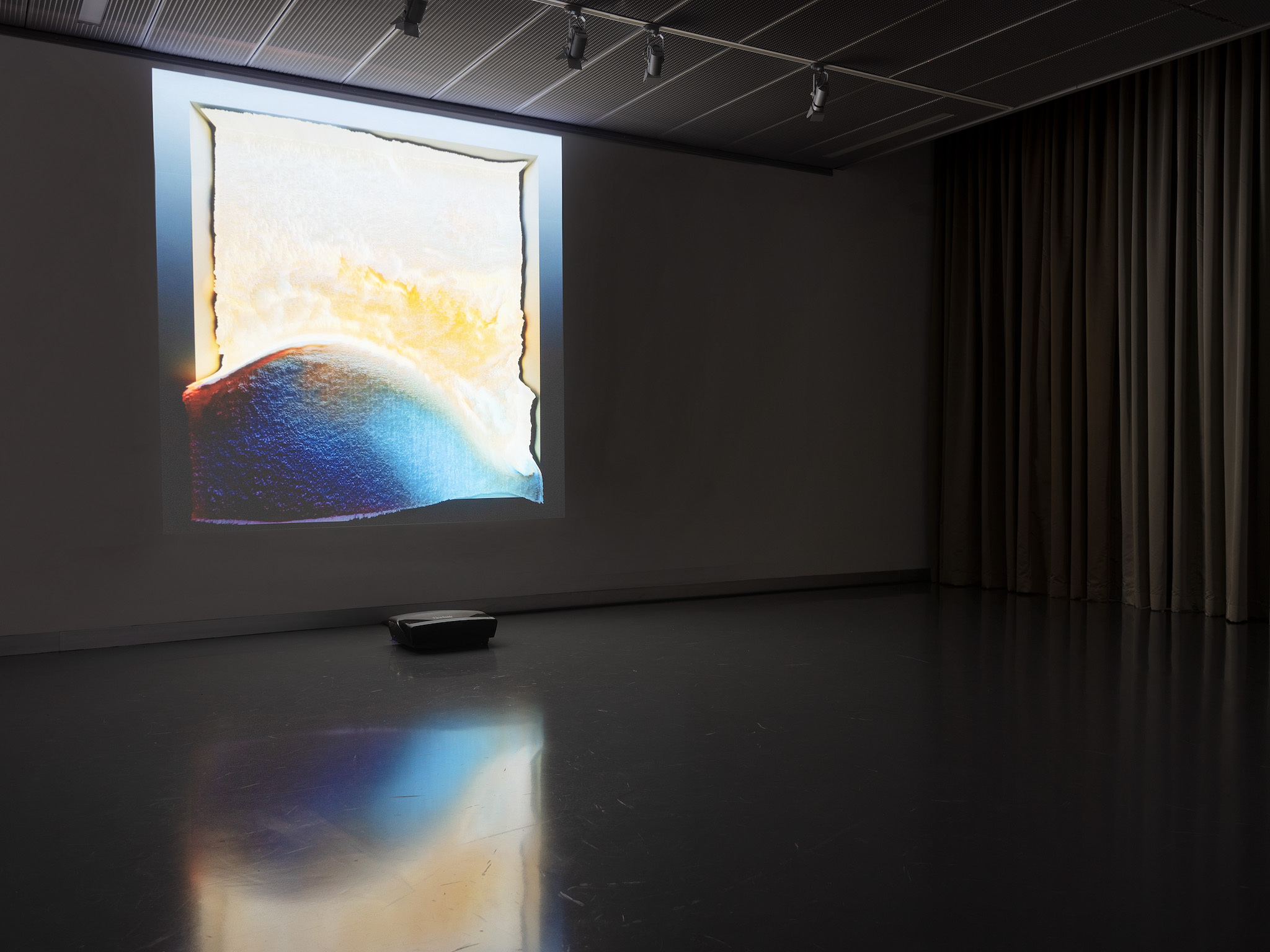 A projection of Refik Anadol's Machine Hallucinations, right click + Save / Photo credit: Timeout
Out of irony by design, Right Click + Save was hosted in Le Freeport.
Freeport is an extremely private depository used to trade high value goods such as art and jewelry. They exist as special economic zones in which the normal tax and customs regulations do not apply. These facilities were often the subject of money laundering allegations.
NFTs were also faced with similar criticisms. Because their value is entirely subjective and their utility is not always obvious, skeptics have often written off NFTs as money laundering vehicles.
Print media ensure eternal life
After all the time they've spent writing about NFTs, the Singaporean media couldn't help but capitalize on the trend itself.
In August 2021, Vogue Singapore published a collection of 40,000 Mystery Boxes on Binance. Each box is $ 20 and contains one of 10 different pieces of art depicting an astronaut exploring a famous city.
Vogue Singapore has launched a Mystery Box with exclusive Sunrise NFTs / Image source: Vogue Singapore
The entire collection sold out overnight and was one of Binance's fastest mystery box sales ever.
Later that year, Vogue Singapore ventured into NFTs again, with a collection that included works by renowned creatives such as Shavonne Wong and Chad Knight. The collection also included an exclusive collaboration with the luxury fashion house Balmain.
Separately, The Straits Times raised over $ 15,000 in charity proceeds from their first NFT collection. The top-priced sale featured a picture of a Straits Times column entitled "Own a piece of the metaverse".
Also included in the collection was a work of art entitled "The Permanence of Cats" – a parody of Salvador Dali's "The Permanence of Memory" in which all clocks were replaced by cats.
Esquire Singapore jumped on the NFT wave at the end of the year in partnership with The Dematerialized. The lifestyle title brought out an NFT sneaker collection designed by the Singaporean artist Tobyato. When researching phygital concepts in the Metaverse, the rarest of the NFT sneakers were sold along with physical replicas.
Local artists find a new creative outlet
2021 was an especially tough year for artists in Singapore. At the height of the pandemic, a survey by Milieu Insight showed how much the country values ​​creative activity.
Not much, it turned out. 71 percent of those surveyed considered the artist's profession to be the least important. Those in creative roles were among the first to be laid off as companies went through a period of downturn.
For some YouTubers, NFTs offered a way to indulge their passions.
Singaporean artist Chanel Lee left the corporate world to launch her own NFT collection of 7,600 pieces of toasted bread.
Delicious toasties from Chanel Lee
Alan Seng left a tech start-up and teamed up with art student Marc Yap to bring digital trading cards to market. Their "Dark Zodiac" collection made over $ 1 million in the first hour of its release.
Fashion photographer Shavonne Wong also started selling her 3D art as NFTs, with sales exceeding $ 60,000 in 2021.
Are NFTs here to stay?
It's hard to imagine an industry valued at over $ 40 billion disappearing overnight. Over the past year, NFTs have faced the wrath of the skeptics and got away unscathed.
Today, the use of these tokens has grown beyond just collector's art. NFTs are used as coupons, governance tools, and virtual real estate.
It's hard to predict the future of such a dynamic space, or what shape NFTs might take next, but it's safe to say that they will be around for some time to come.
Highlighted image source: Reuters
Also read: From Binance.sg's exit to the digital dollar: Here are the most important crypto developments from S'pore in the second half of 2021