Sister duo Saiyr and Emaza Gibson, known by their musical nickname Ceraadi, don't seem to be sitting still. There are too many goals to be achieved, securing bags and checks for cash. The aspiring pop R&B artists who are under contract with JAY-Z's Roc Nation are involved in various business areas: They work with Rihanna's brand Savage x Fenty and they judge on Quibi's dance competition show as a guest Flooringand operates a successful YouTube channel with over a million subscribers. But they are ready to improve and build an even stronger presence in the entertainment space. They hope to achieve this this fall when they launch an immersive online concert in collaboration with the virtual reality platform AmazeVR. The multi-sensory experience enables fans to enjoy a powerful performance by Ceraadi without having to leave the house.
The couple are also preparing to drop their single "BFF" on September 4th. The track will be featured on their upcoming EP. Get ready with me – the expected follow-up to their EP 2019, Ceraadis playlist – that has a not yet announced release date. In an interview with POPSUGAR, Ceraadi spoke about their whirlwind work ethic, how they filmed a virtual concert, and what to expect from their new music.
POPSUGAR: How do you reconcile all these different projects and collaborations?
Saiyr Gibson: Our mother is our manager. She takes care of everything and we have a calendar. We're business women too, so we'll step in and help. But our mother understood where we can be artists and creative.
Emaza Gibson: Yes, we have a strong foundation. When you start making music you need a team and we have a great PR team. Sometimes I ask myself, "How do we do this?" Because there's a lot going on, but we can do it.
PS: How do you keep this hectic pace and stay motivated?
SG: We're just not where we want to be yet.
E.g .: Our mother always tells us: "You never want to be comfortable." There is a time when you can feel good, but we just want so much out of life that we keep trying to make it better.
PS: What is your creative process for making music?
E.g .: We always listen to music and cling to things related to what we are going through. So when we make music, it's like, "What do we want to talk about today? Do we want to be the crazy, angry friend? Do we want to be in our feelings and be crybugs? Do we want to be lit and have." Fun? "It's a very fun experience.
SG: It's hard to get studio time, especially during this whole pandemic and even a little bit before that, because our team wasn't solid back then. So sometimes we plan ahead and go straight to the studio and ask for an R&B beat or something and make sure we get everything done before the session is over. Or we will agree on a beat during a studio session, go to our separate rooms where we write, come back and say what we want to talk about and say, "Girls, me too!"
E.g .: We have a song called "OK" and when we did it she put down her verse first. I was about to lie down, but I wanted to hear what she had. I said, "girl, this is the same stuff I was talking about." It is great.
SG: We have this telepathy.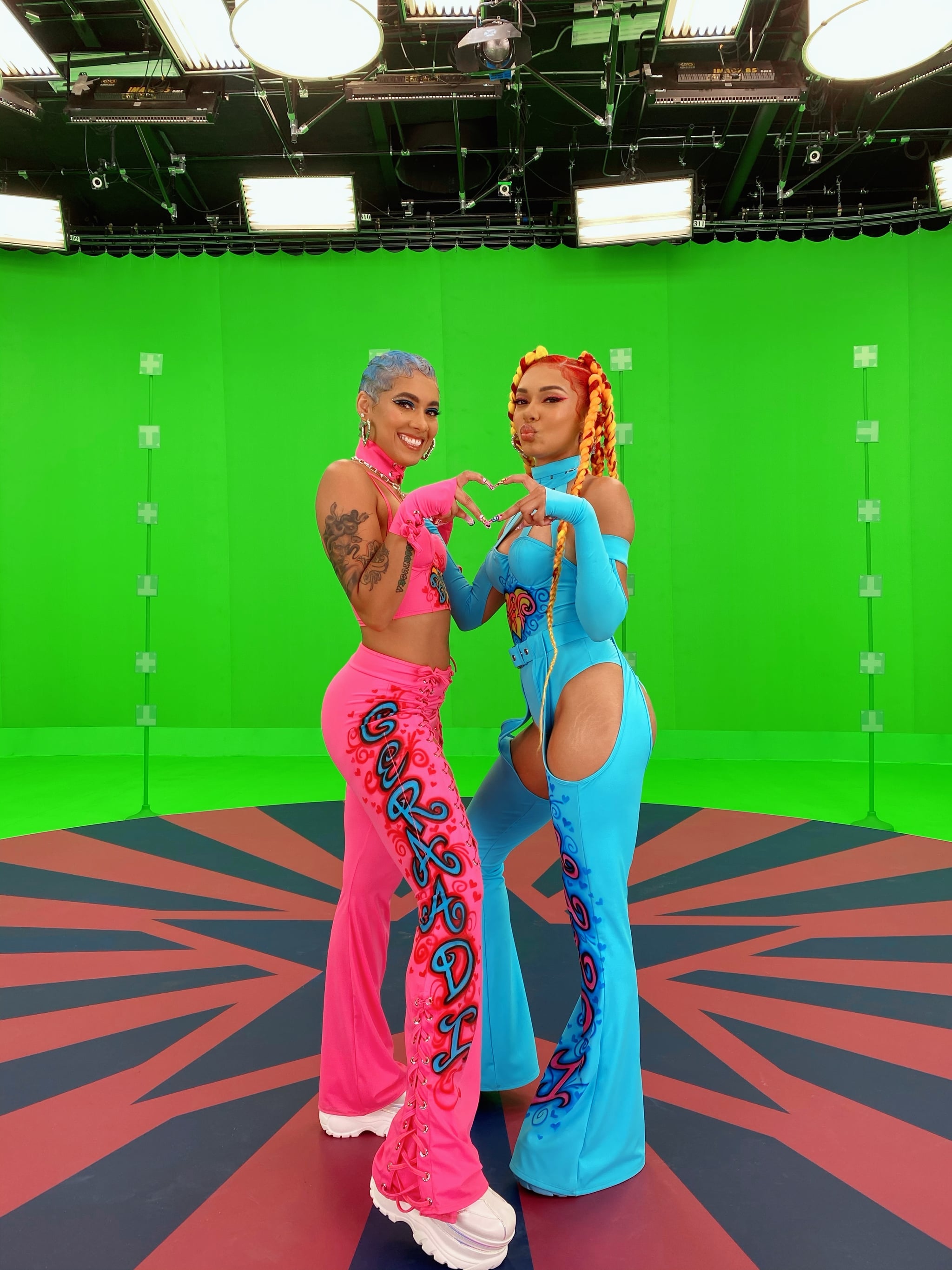 PS: What can you tell me about your upcoming song "BFF"?
SG: We let Hit-Boy produce the beat and we worked with Fallon and Felisha [King].
E.g .: We like R&B music and girls groups and they were from Cherish. It was cool to get their perspective as sisters too. They're real twins, but they're best friends too, and then Saiyr and I are best friends so it was perfect. We need this feminine-feminine love instead of fighting each other. So "BFF" is a love hymn.
SG: People say, "If you're sisters, you can't be best friends. You have to have another best friend." No, we are best friends and sisters.
PS: That's funny because when I heard your music for the first time and saw your videos, I immediately got a cherish mood and thought of "Do It to It". So, I love that you connected. Now your virtual concert with AmazeVR starts this fall. What's in planning this type of experience?
SG: Basically, choose how you want the stage to look – look at every angle from texture to color – and find choreographers.
E.g .: It's crazy too because you're dealing with a different type of camera. There are two lenses that you need to look carefully between as you are connecting to a virtual audience. It was quite difficult, but we adjusted well. The whole team was great and everyone was so excited.
SG: Plus, they can't cut everything together, so we had to go through it perfectly from start to finish with the dialogue too.
E.g .: That also gave him the organic feeling of being at an actual concert.
PS: Where did you shoot the concert?
SG: It was a big green screen that they were shooting at Avengers: Endgame.
"We need this feminine-feminine love instead of fighting each other. So 'BFF' is a love hymn." – Emaza Gibson
E.g .: We'll be posting pictures soon for you to see the stage. We will also have a popup experience and everyone will take health precautions to keep it safe. You will be able to come to a venue and get the feel for it all. We're happy to be a part of it and we're blessed because it's busy right now, but it's an opportunity to connect with our audience.
PS: That's incredible. I'm a huge nerd so I love that you were shooting where they were shooting Endgame.
E.g .: We touched the ground like, "This was Iron Man and Captain America."
PS: If you could have anyone on the virtual tour, who would it be?
SG: I would say The Carters because their production –
E.g .: It's crazy. You would get that production value and fun energy.
PS: A bit like Chloe x Halle's recent live performances that got to the point.
E.g .: You get tips from Beyoncé! You kill it. We actually had the chance to meet Chloe some time ago – Halle was in London for The little mermaid. You are beautiful and so talented. It's crazy to see what they've been up to for the past few months.
PS: What other celebrities did you meet?
SG: Dang close to everyone we wanted to meet – Drake, Beyoncé, JAY-Z, Rihanna, Normani.
PS: Wait, Beyoncé?
E.g .: Yes, we met Beyoncé at a Roc Nation Christmas party. We just danced and lit ourselves. I was thirsty and [Saiyr] was thirsty, so she wanted to get some water, but on the way back she had to pass Beyoncé and JAY-Z's table. She said, "Shit, I don't wanna go there." But she did and they stopped her and she said, "Let me get my sister." I just said, "Hi!" [Sheets]
PS: What other projects are you currently working on?
"We really want to establish ourselves in the music industry. We are here to stay." – Saiyr Gibson
E.g .: We have our EP coming out – EP number two! The title is Get ready with me. It's like the Get Ready With Me videos on YouTube, but with music. Every song has an assignable moment and you can play it whether you're preparing for a date, preparing to go out with your girls – for your whip date, but you're crazy because you're stuck in traffic.
SG: And we're going to be making three music videos from the EP soon.
E.g .: Yeah, they'll come out like Boom, Bam, Pop!
PS: What's the general sound and mood?
SG: It's definitely more mature. We dive deep. There are some swear words. I know people have said, "You never bother to express your anger." We do, but we have a demographic and we are dedicated to our fan base.
E.g .: But now we're growing up.
EG and SG: We pay bills. [Laughs]
E.g .: We definitely have more lighted R&B stuff too. And we have DDG from Epic Records. He killed the music game so we're making a music video with him. It's going crazy.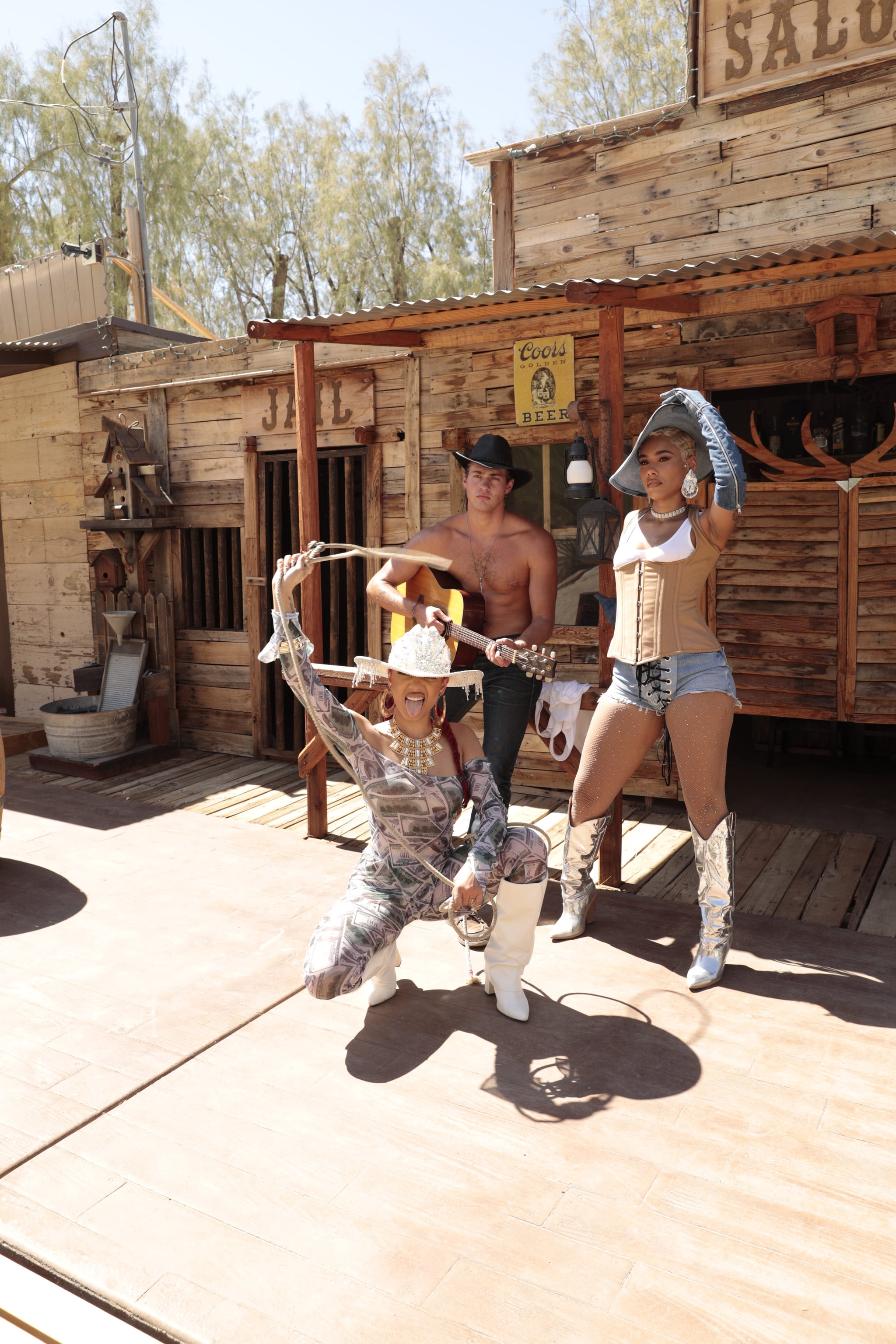 PS: What are some of the biggest lessons you've learned in your 20s so far?
SG: At the end of the day, it's all business. So try to keep your relationships away from your business and remember that not everyone is going to treat you the way they treat others because everyone is trying to get to the top.
E.g .: I would also say self care. Really put yourself first and keep good people around so you don't go crazy.
PS: And what do you hope to get out of your 20s?
E.g .: More money!
SG: And I want our EP to top the charts. We really want to establish ourselves in the music industry. We are here to stay.
E.g .: Our last project a year ago was actually number eight on iTunes R&B charts. So we said, "Oh, we're out here!" But we want to continue growing as people, as artists and as business women. You can never learn too much. Knowledge is power. People know Ceraadi because we do so many things, but we really want to leave our mark on the music because this is our first love and that's what we did in the beginning. Many people do not know that. We toured schools in LA and people posted our gigs on YouTube. So this is not a game. That's not, "Oh, I woke up and wanted to make music today because everyone else is." We just want to entertain through different ways and beings –
SG: The all-rounder.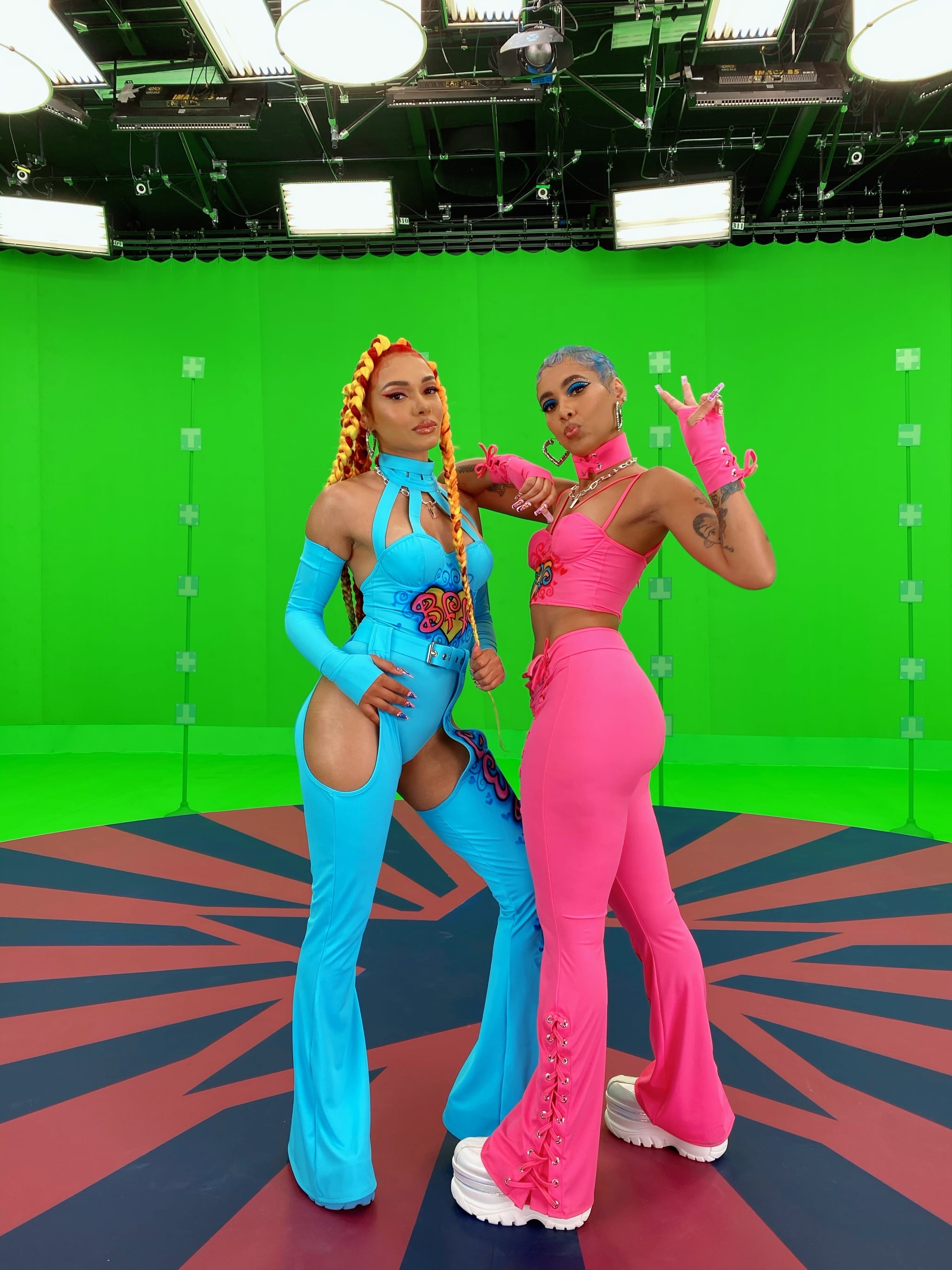 PS: What are some of the greatest blessings 2020 has brought you?
SG: Our family is together and healthy.
E.g .: And definitely just new possibilities. We've been through so much. We had a third member, our sister [Znuie, who left the group in 2018] so through this situation we could rename and grow. We are blessed not to be judged. Everyone has their family problems, but people still respect us for our talent.
PS: What would you like to manifest in the near future?
E.g .: Definitely win entertainment awards.
SG: And so that the pandemic is over, so that we can actually receive the award. Our dream is to host an award ceremony, perform and win an award. Triple Whammy – go big or go home!
E.g .: And we want to get platinum on a single or an album and then venture into beauty, clothes and all that stuff. We have so many ideas.
SG: And television shows.
E.g .: Oh yeah, and movies.
PS: If you could make a film, what genre would it be?
EG and SG: Action!
SG: As a Endgame or some kind of Harry Potter guy.
E.g .: Yes, we love Harry Potter – Expecto Patronum!
PS: Well we have spoken and manifested it.
SG: Yeah, and I've stacked all of my crystals in my room.
Image source: Courtesy of Ceraadi