The scary season has arrived and it's time to feel festive and scared. However, Halloween is probably nowhere near as exciting as an adult as it is as a small child. For this reason, this year's Haunted Vacation should be watching all of your favorite Disney Channel Halloween episodes again. Wearing a costume is definitely not the only way to party. You can also microwave popcorn, light your favorite fall scented candles, and relive your childhood by exploring the scariest corners of Disney +.
Between Lizzie McGuire turning into a zombie and Raven Baxter playing around with an old magic book, these 13 Halloween episodes will get you in the Halloween spirit and take you back in time:
Boy meets world, "And then there was Shawn": The incarceration is bad enough, but in this classic episode it turns into a full-blown crime thriller. When Corey, Shawn, Topanga, Angela and Kenny discover a corpse and a creepy message on the blackboard, they all have to uncover Whodunnit.
The proud family, "A Hero for Halloween": Penny Proud is definitely not having the Halloween of her dreams. However, after taking a bite of her father's Proud Snacks, she mysteriously gains superpowers and uses them to fight crime.
Lizzie McGuire, "Night of the Day of the Dead": In this episode, high school bully Kate Sanders goes too far by insulting Miranda's skeletal character "Day of the Dead," and hires Lizzie to "roast" little brother Matt during the school year of Horror Night .
That's so raven, "Don't Have a Cow": Raven and her best friend Chelsea turn to an old magic book to create stunning Halloween costumes. Unfortunately the magic turns out to be unpredictable and they accidentally turn into cows.
Even Stevens, "A Very Scary Story": What Are Principal Wexler and Coach Tugnut Up To This Episode? They turn all of their students into obedient, milk-drinking zombies, that's what.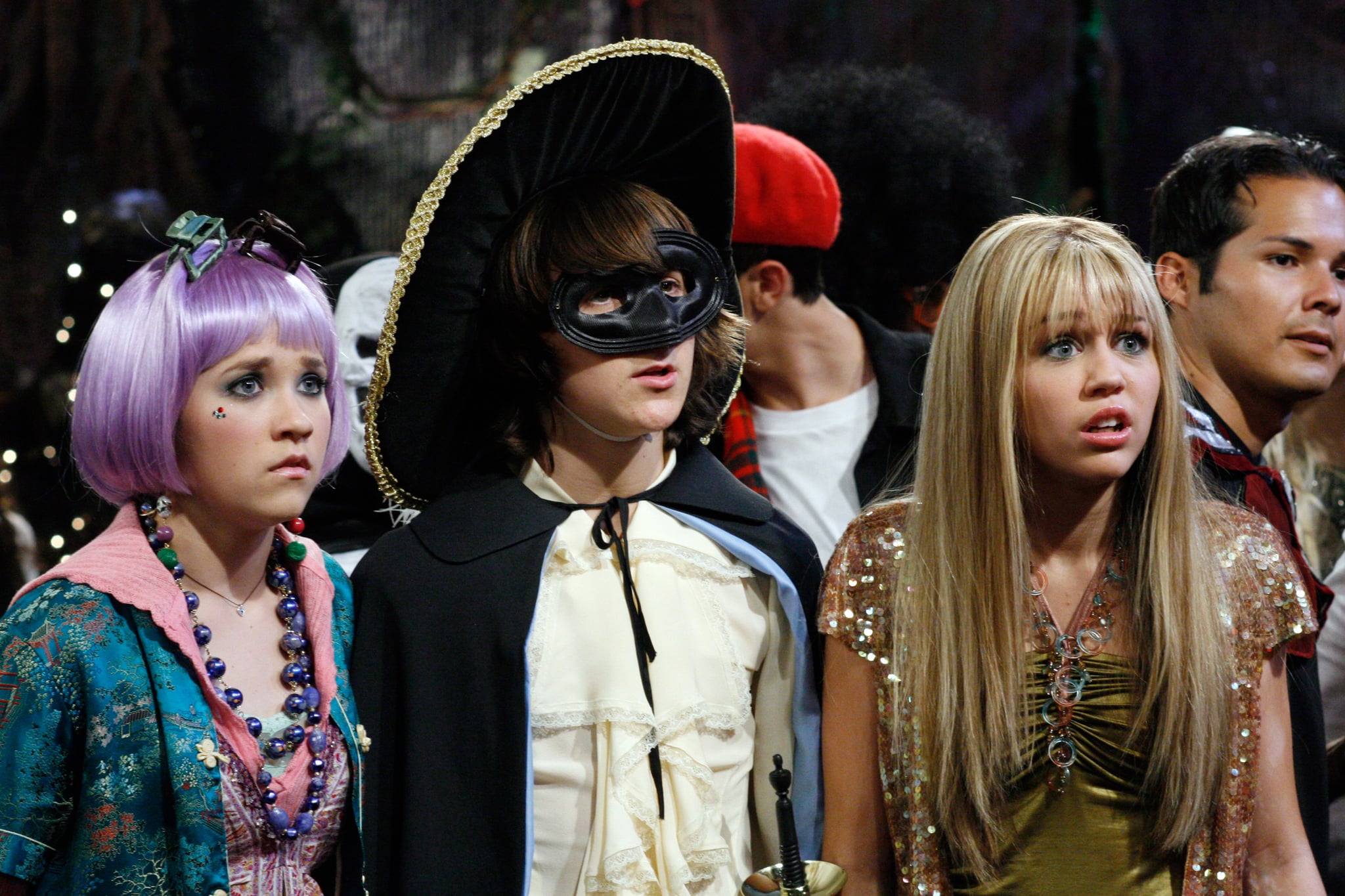 Hannah Montana, "Torn Between Two Hannahs": What could be more frightening than revealing Hannah Montana's true identity? In this episode, Luanne, Miley's Tennessee cousin, threatens to do just that.
The suite life of Zack & Cody, "The Ghost of Suite 613": There's nothing like a good old-fashioned ghost story. In this episode, London Tipton tells a creepy story about a ghost who lives in the hotel. While Zack wants to see the ghost, Cody is scared.
Suite life on deck, "The Ghost and Mr. Martin": Writing a paper is hard work, but when your ship docks in New Orleans, it only gets tougher. Zack meets the ghost of the captain of a sunken steamship and is convinced that the ghost needs his help.
Kim Possible, "October 31st": In this episode, the worst thing of all is a lie. Kim Possible lies for not trick or treating with her best friend Ron, and the lie becomes a monster in itself.
Phil of the future, "Halloween": Debbie turns into an evil cyborg and forces the students to bake 50,000 cupcakes. Can Phil save the day and save Halloween?
Phineas and Ferb, "That's the ghost": Phineas and his friends throw an incredible haunted house. However, things get messy when the full moon drs. Doofenshmirtz transformed into a terrible "who-cow" who terrorizes everyone and everything.
So strange, "Boo": Of course, every episode of this classic Disney Channel series is scary. However, this episode is especially perfect for Halloween as it is a city where the spirits return to the realm of the living on October 31st and the mortals withdraw with them.
The wizards of Waverly Place, "Halloween": This Halloween the Russians need to make their annual haunted house event even better so they can hire some real ghosts to scare people. What could go wrong?