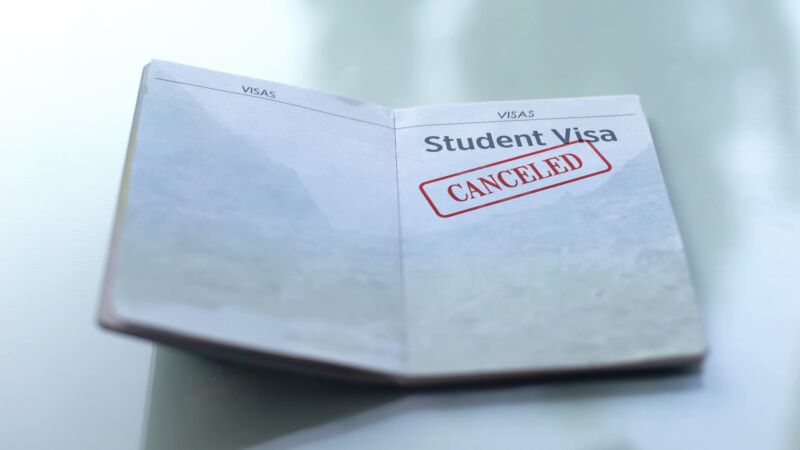 Harvard University and the Massachusetts Institute of Technology sued the Trump administration today to block an action that forces foreign students with non-immigrant visas to leave the U.S. or go to different schools that offer personal lessons. The school complaint filed with the U.S. District Court for the Massachusetts District calls for an injunction and a permanent injunction, which prevents administration from enforcing the new U.S. Immigration and Customs Agency (ICE) directive.
In the complaint, Harvard and MIT said:
ICE's decision appears to reflect the federal government's efforts to force universities to reopen personal courses that would require students to be accommodated in crowded dormitories, regardless of the universities' assessment that this is neither safe nor pedagogically advisable and such Force reopening if neither students nor universities have enough time to respond to or address the additional health and safety risks to their communities. The effect – and maybe even the goal – is to create as much chaos as possible for universities and international students.
The ICE policy will be particularly problematic for Harvard and MIT students from certain countries, for example, "Syria, where civil war and a continuing humanitarian crisis make Internet access and studying virtually impossible," the lawsuit said. "Others come from Ethiopia, where the government is blocking all Internet access for extended periods, including currently from June 30, 2020."
The directive also prohibits F-1 students who are currently outside of the United States from "entering or re-entering the United States," the lawsuit said.
Students who are only online may be removed.
The ICE change to the student and exchange visitor program announced on Monday said that "F-1 and M-1 non-migrant students who attend schools that are fully online may not have a full online course load and will remain in the United States . " The United States will not issue new visas to such students. "Active students in the U.S. who are currently participating in such programs must leave the country or take other measures, such as moving to a one-to-one school to remain in legal status." ICE said. "If not, they can face immigration consequences, including but not limited to initiating relocation procedures."
While full online course attendance is not allowed, ICE said that F-1 immigrant students can avoid deportation procedures by attending schools that use a "hybrid model" of online and personal classes.
This is a problem for thousands of students at Harvard and MIT. Harvard informed the students that "all courses (students and graduates) for the academic year 2020-21 will be offered online," while MIT said that "most courses for students will take place online this fall," with lab work and some other types of classes take place "if possible in small groups". Harvard has nearly 5,000 students studying in the United States with F-1 visas, and MIT has nearly 4,000 such students.
According to the ICE rule change, F-1 students who participate in an online-only program must "give up their housing, violate rental agreements, pay exorbitant airfares and risk COVID-19 infection on transocean flights" or "the risk Immigration Detention "Authorities and Formal Deportation" If They Don't Leave the United States Immediately, Schools Sue.
According to schools, ICE has not received any public comments
Harvard / MIT's lawsuit indicates that ICE made an exception on March 13 to the rule that F-1 students must attend classes in person. At that time, the government "made it clear that this arrangement was valid for the duration of" the emergency. "" But the pandemic continues, and President Trump's "national emergency statement has not been lifted or ended," the complaint said.
Harvard and MIT argue that ICE's decision violates the US Administrative Procedure Act. The rule change "is arbitrary and capricious because it does not take into account important aspects of the problem until the agency … provides a well-founded basis that could justify the directive" and violates the obligation to publicize and comment. The lawsuit from the schools said.
Harvard and MIT told the court:
ICE's efforts continued with no evidence that the health of students, faculties, university staff, or communities was considered. the confidence of both students and universities in ICE's statements that the existing exemptions would apply "for the duration of the emergency" that result from the COVID-19 pandemic that continues to this day; or the lack of other ways for universities to make their curriculum available to many of their international students. Certainly no notice and comment period was provided.
ICE's action means that hundreds of thousands of international students have no educational opportunities in the United States. Just a few weeks after the start of the fall semester, these students are largely unable to switch to universities offering campus classes, despite ICE's suggestion to do so to avoid deportation. In addition, it is impossible, unaffordable, prohibitively expensive, and / or dangerous for many students to return to their home countries to take online classes.
The ICE action "gives schools" an impossible choice: they lose numerous students who bring enormous benefits to the school, or take steps to keep them through personal instruction, even if these steps contradict each school's judgment, such as health the best way to protect the school. " Students, faculties, staff and the entire university community, "the complaint also said.
"ICE cannot offer the most basic answers"
ICE argues in a FAQ that its new approach "carefully balances public health concerns against the different approaches schools and universities use to combat the spread of COVID-19". ICE also said that "the health and safety of all students is paramount," but government officials found that "distance learning from outside the United States, personal instruction, and a hybrid model that combined both personally and personally offered online courses Students without a migration background have the best opportunities to continue their education as they currently have health risks associated with international travel. "
The ICE FAQ states that the Department of Homeland Security "coordinated with its government partners" in the State Department and in U.S. Customs and Border Protection before the change was made. But Harvard and MIT say the concerns from schools and students have been ignored.
"The announcement disrupts our international students' lives and jeopardizes their academic and research activities," wrote MIT President L. Rafael Reif, adding that "ICE is unable to provide the most basic answers to interpreting or implementing its policies . "
In the meantime, President Trump today criticized the Centers for Disease Control and Prevention for issuing "very strict and expensive guidelines for opening schools" and threatened "cut funding" if schools didn't return this fall to open.