What will companies look like after all this?
We saw firsthand how the pandemic uprooted business. For me today is 10 weeks of remote work. But what will the new normal look like when we go back to the office?
Fortune Analytics took an exclusive look at Salesforce's proprietary data to learn how the pandemic affected companies during and after the crisis.
The Customer & Market Insights group within Salesforce regularly conducts decision-maker surveys (director level or higher) on a number of hot business topics. Fortune Analytics has exclusive access to the results of three surveys conducted in April and May.
Here are some of the results of this data.
Knowing the numbers
30%
… Of managing directors say their company's priorities have changed a lot due to COVID-19. 58% said they changed a little bit, 10% said very little and only 2% said no change.
48%
… From business leaders saying that their main concerns when returning to normal business are health and safety. That was followed by 38% who cited financial management and cash flow and 27% who cited new laws and regulations.
26%
… From managers believe that the "new normal" of their organization means that more employees work from home.
25%
… The company leaders say that the biggest challenge for remote work are productivity and motivation. That was followed by 24% who said connectivity with colleagues and 19% Home office setups.
48%
… From managing directors believe that technology spending in their company will increase due to the pandemic. Just 14% I think tech spending will go down.
The big picture
Technical expenditure and remote work will increase. When the economy shrinks 48% The business leaders say that tech spending will increase compared to that 14% Who says it will fall Much of the technology spending will increase due to the burgeoning remote workforce. Speaking of WFH: When things normalize again, the biggest change that companies can still see is the work-from-home structure.
Keeping in touch with the employees is the big challenge. Productivity (25%) and communication (24%) Problems are the business obstacles for WFH, decision-makers say. In the meantime only 16% Access to technology systems is a problem.
A couple of deeper takeaways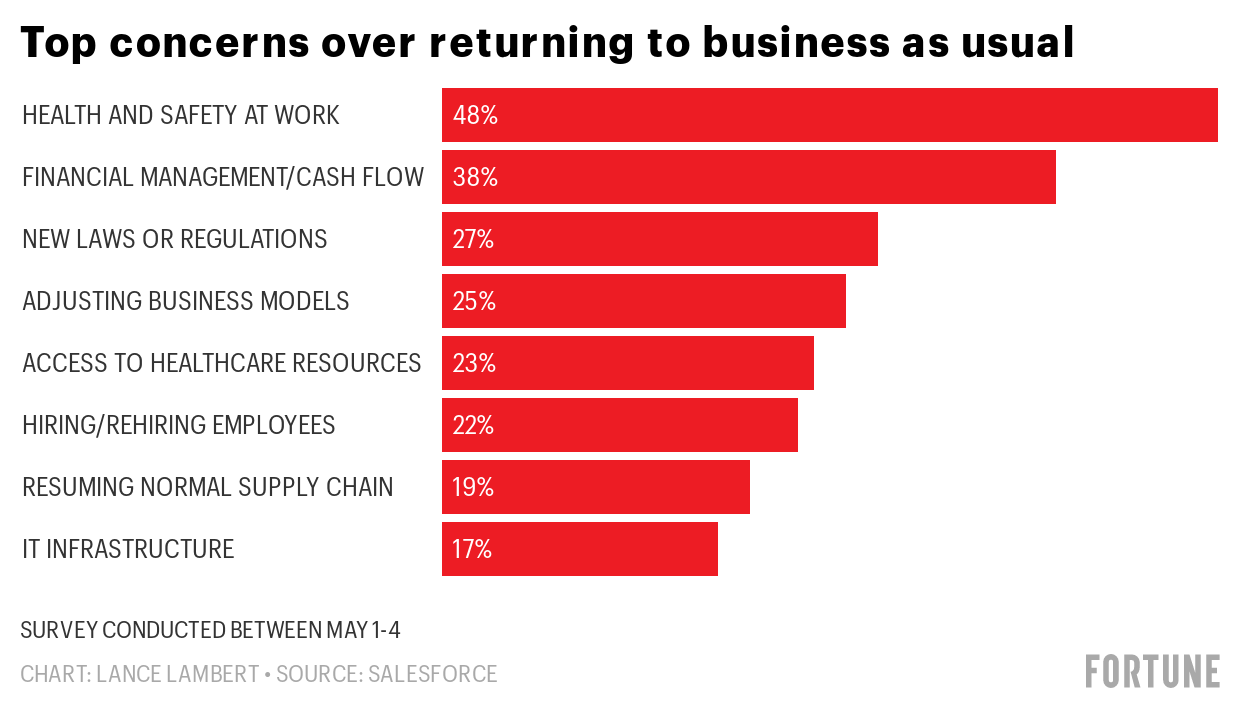 1. Health and safety are the main concerns.
Companies across the country are still working on their health and safety policies. They try to test employee temperatures, need masks, turn when employees can come to the office, and much more. (Just 23% Maintain access to healthcare resources as a primary concern.)
Companies are also concerned about figuring out financial management and cash flow 38% from decision-makers who call it the main concern. In the meantime only 22% say hiring or re-hiring. It makes sense: you won't be returning to the same robust economy. The financial burden of this crisis is likely to take years.

2. Despite budget cuts, tech spending is expected to increase.
Businesses strive to find ways to cut costs. But even during this massive economic contraction, almost half (48%) of companies plan to increase tech spending – and that only 1 in 7 plan to reduce that. As companies move more employees to remote locations, they have to spend more on cloud computing and cyber security.
If the crisis worsens, expect more companies to use this technical expense. But it is exactly the opposite. In early April, 19% A number of decision makers told Salesforce that they would expect to cut technical expenses in the future, but only if requested later this month 14% is still expected.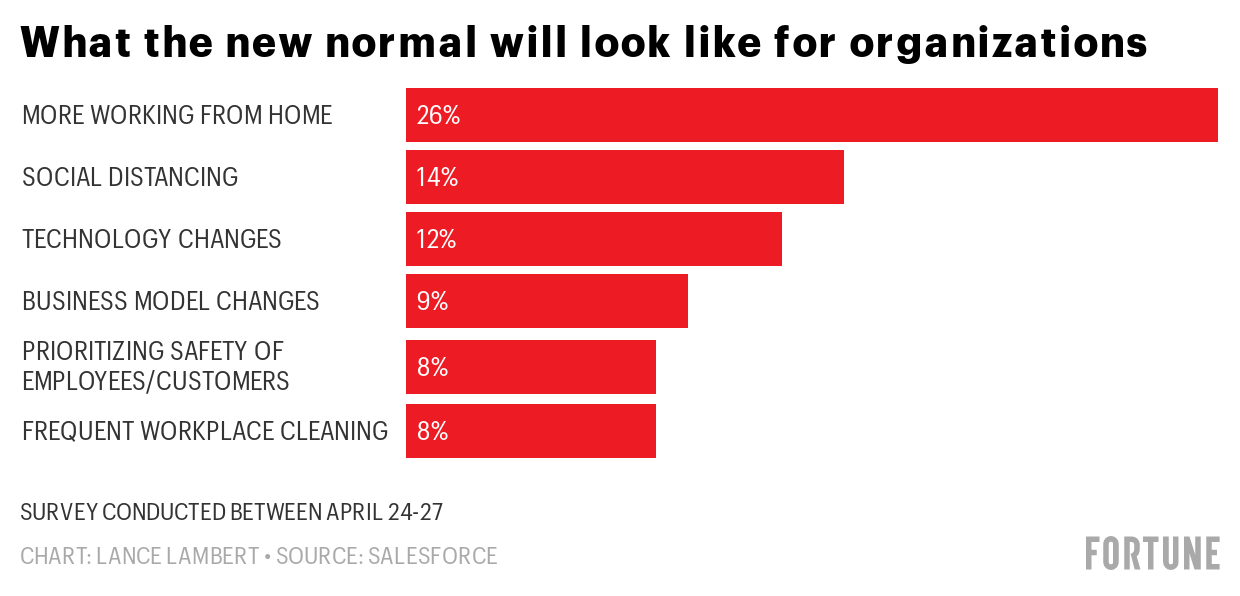 3. WFH could stay here.
This week restaurants in Ohio where I work from home have reopened for dining. I personally will not be returning to Cincinnati Chili Salons, but it is a signal that the store will reopen sometime.
However, company leaders cannot agree on what reopened companies will look like or what changes are likely to occur: 51% Decision makers are still considering how to run a business during the pandemic – let alone think months ahead.
Around 1 in 4 After their reopening, company managers see more employees at WFH. Some companies have already committed to this: Twitter has announced that returning to the office will be optional for its employees indefinitely.
(As for those returning to the office, while decision makers only mention health and safety as the main concerns 8th% cite frequent workplace cleaning as part of the new normal. Let's hope you have a disinfectant nearby.)
* Methodology: The Customer & Market Insights group within Salesforce conducted three online surveys among its B2B target groups of directors or higher who are decision-makers or influencers for corporate software or applications in their company. The first survey was conducted from April 8-10, with 173 respondents. The second survey was conducted from April 24th to 27th with 165 respondents. The third survey was conducted from May 1-4 with 176 respondents.
Are you looking for more insights like this?
As a benefit of their subscription, Fortune Premium subscribers receive Fortune Analytics, an exclusive newsletter that publishes in-depth research results on the most frequently discussed topics in the business world. Our results come from specific surveys that we conduct and proprietary data that we collect and analyze. Sign in to get them in your inbox.