In our Q&A series Last callWith some of our favorite celebs, we get to the bottom of every thing – from the last text they sent to the last thing they watched. Actress Sadie Stanley answered our call this week.
Sadie Stanley made her acting debut as legendary crime-fighting, world-saving Kim Possible. Now she's tackling her next role in Netflix & # 39; family adventure comedy. The sleepover. Read on to learn more from Sadie about her last day on the set, the last piece of advice that changed her life, and more!
PS: What was the last thing you saw on Netflix?
Just started When they see us. Absolutely breathtaking and very heartbreaking. It's been on my list for a while as I read up on systemic racism and the ingrained oppression of blacks and minorities in America. Highly recommended.
PS: What was the last thing you ordered online?
A massive scratching post for my two cats. It's as big as me and I put it together myself. They love it so much and they always take naps and play on it.
PS: What's the last photo on your camera roll?
An image of an acrylic painting I'm working on. Doesn't look like much now, but it will (hopefully) be an abstract (ish?) Portrait of Mac Miller. I've been painting again since the quarantine and it was really fun and therapeutic.
PS: What was the last thing you wrote?
I texted my manager about an independent script I had just received and was very excited to read.
PS: What is the last thing you do before you go to bed?
Not very interesting, but definitely bet on chapstick, can't go to sleep without it.
PS: How was your last day on the set of The Sleepover?
The last day on the set of The sleepover is a very memorable one for me. We were filming on a bridge in the middle of the night and it was freezing! Cree (Cicchino) and I wore shorts and t-shirts and Malin (Akerman) wore a short dress, so we huddled between settings on the heaters! We filmed a small dance montage of the family in which something was celebrated (we don't want to reveal anything). It was a very special moment because all of the main cast were together and having such a good time. I was really amazed that it was over.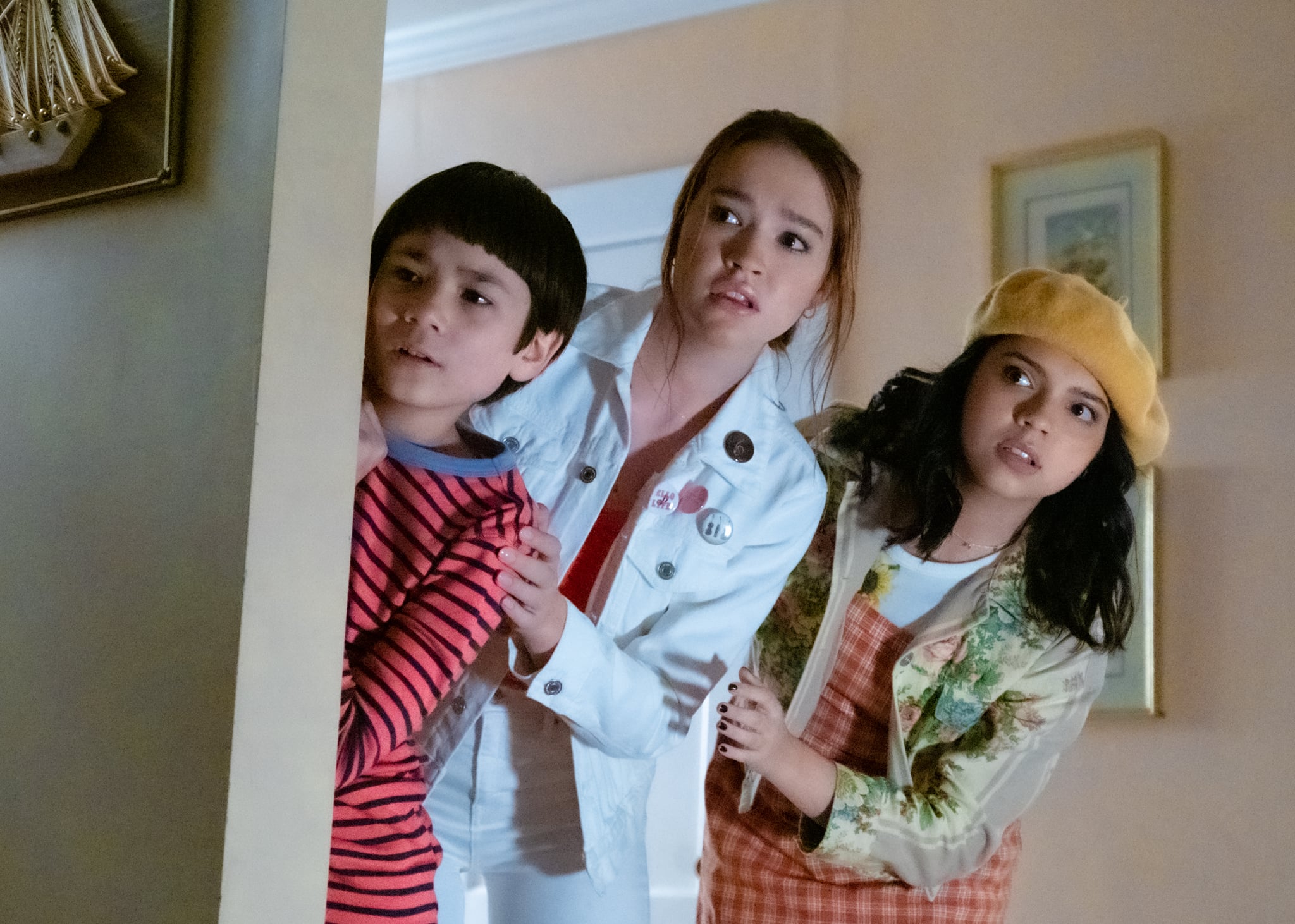 Image source: Netflix
PS: What was the last gift you received?
One of my closest friends, Ciara, recently started designing and making clothes through quarantine. She made me this gorgeous emerald green corset top with insane stitching and patchwork and it's the coolest piece of clothing I own. I wore it to a press I worked for The sleepoverand I felt so beautiful in it.
PS: What was the last thing you took home from a set?
I always find myself accidentally stealing socks from the set. That's definitely a boring answer, but I always forgot to switch it. I also got a very special crown The sleepover We used that in a game we played for the press and I get to keep that, so that's pretty cool.
PS: What was the last song you sang in the shower?
So many. I never shower at full speed without my speaker. Probably something Adele. Definitely "Best Part" by Daniel Ceasar feat. HER. Throw in a little musical theater and you get the picture.
PS: What was the last piece of advice that changed your life?
The first thing that comes to mind is a letter from Adam Stein that I received on the last day of shooting of my first project. Kim Possible. I have recorded this letter since that day and read it every time I need to remind myself how far I have come. One of the many pieces of advice in this letter is to use my not-so-great life experiences as fuel in my artistic endeavors and never stop believing in myself.
PS: what is the last book you read?
I'm still alive by Kate Alice Marshall. SO GOOD. Highly recommended.
PS: What is the last album that you heard?
Dominic Fike just released an album called What could possibly go wrong. Heard it all the way and loved it. He's one of my favorite artists right now. Now I have to listen to an album that just came out Give me a minute by Lizzy McAlpine – another favorite artist of mine! Really excited about it.
PS: What was your last training session?
I'll be honest, my exercise routine was pretty darn good before the quarantine started, and it's going downhill from there. I think my last "workout" was either playing basketball with my roommates or just doing yoga and stretching in my living room. I've made a decision to be kind to myself and relax a bit, and I encourage everyone to do the same if they don't feel very productive or motivated during this time. Do your best to buy time for things that make you feel good about, whatever that is.
PS: How was your last audition?
I just finished a producer session on Zoom, which was very interesting. At first it was a little strange reading a scene with someone on a screen, but I think it went pretty well!
Look at Sadie The sleepover, stream on Netflix now!
Image source: Sadie Stanley