After the CARES law was passed at the end of March, shares collapsed despite the economic slump. But that run is over: the S&P 500 index has fallen nearly 10% from its high of 3,580 points on September 2nd.
Is this just a temporary setback after a spring and summer of huge gains or the beginning of a bigger retreat? Where else can investors find advantages – and which stocks do they avoid?
To find out, Fortune and Civis Analytics surveyed 1,180 US investors between September 11 and 14. * The last time we interviewed investors, the week of March 23rd, we found that they were planning to buy the dip. Then the S&P 500 rose 47%.
Now it looks like investors are getting more bearish. Only 28% of investors see the S&P 500 finish the year above 3,000 points, and a meager 7% see it above 3,500 points. Meanwhile, 61% are concerned that stocks are overpriced.
The September retreat was brutal for tech stocks. This month, the Nasdaq is down -11%, and both Apple and Tesla stocks are down 20%.
That said, investors still see the biggest upside to tech stocks in the next 12 months. They told us the same thing back in March, just before those stocks went up (Amazon was at $ 1,940 per share at the time; then it rose to over $ 3,000).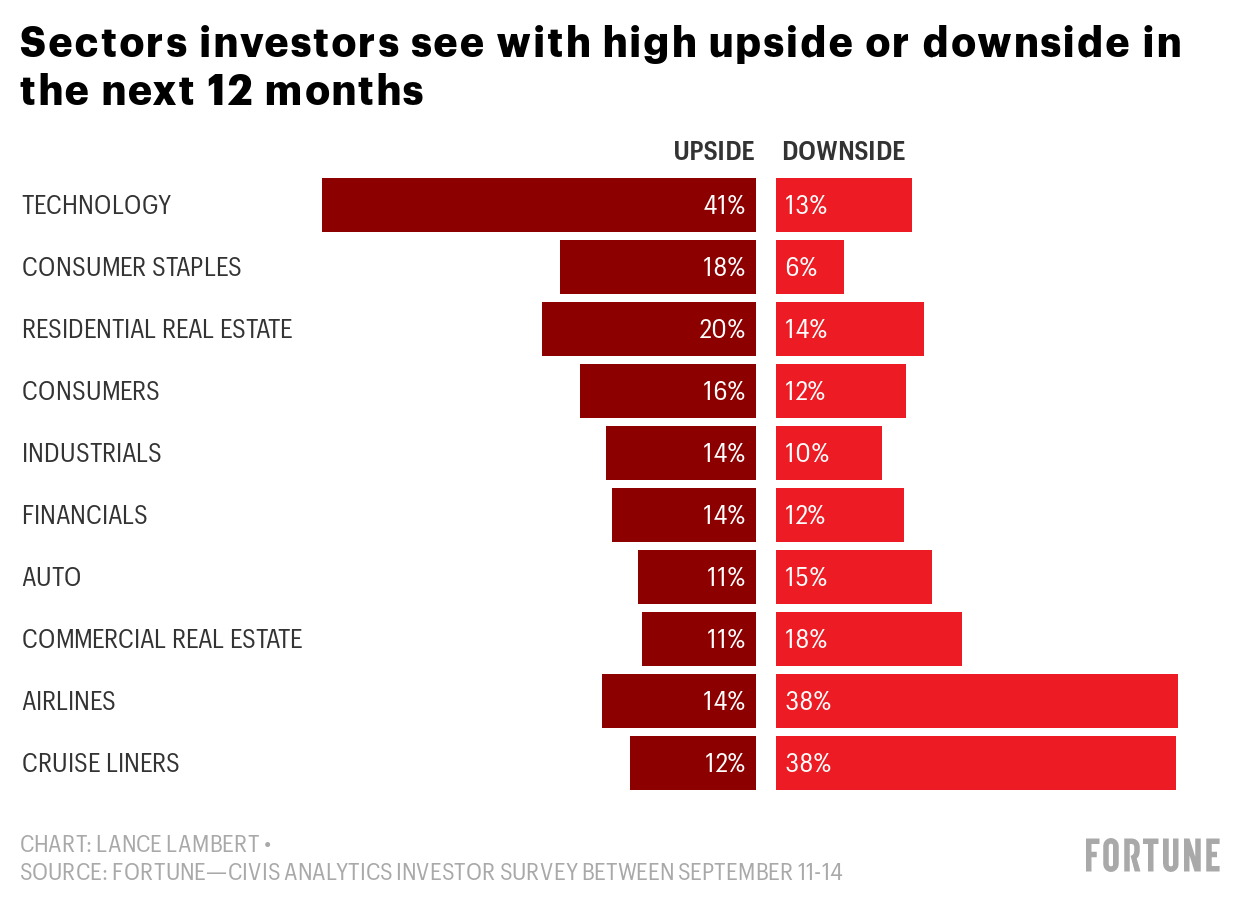 Which stocks do they not affect? Companies that rely on things to return to a pre-COVID state. At a 2-to-1 ratio, investors see airlines and cruise lines at the biggest disadvantage – still. They felt the same way in March.
Your perspective is easy to see: Airlines are still losing millions a day as the pandemic continues to hamper business and leisure travel.
* Methodology: The Fortune Civis Analytics survey was conducted among 1,180 US investors between September 11 and 14. Investors need to trade financial assets such as stocks or bonds.
This is an excerpt from Fortune Analytics, an exclusive newsletter that Fortune Premium subscribers receive as a discount on their subscription. The newsletter provides in-depth information on the most debated topics in the business world today. Our results come from special surveys that we conduct and proprietary data that we collect and analyze. Sign up to receive the full briefing in your inbox.